We will rarely find a person who does not like to listen to music or any audio recording. Because of gadgets like mobile phones, MP3 recorders, music, or audio recording is now always available with us. With the help of earphones or headphones, you can listen to audio anytime anywhere. It also facilitates us to connect a mobile call without picking the phone, which helps a lot while moving. Hence the good quality of Earphone is absolutely necessary. Here we have selected the Top 10 Best Earphones under 1000 with mic in India that will add extra value to the Audio quality and hence listening pleasure.
Types of earphones/Headphones
You have a lot of choices of earphones/headphones in the market. You may get confused in searching in wide varieties. Therefore you need to list down your requirements such as purpose, handling, brand, budget, etc. There are various types of headphones like Earphones (also known as in-ear headphones/earbud), Wireless earphones, Truly wireless earphones, On-ear Headphones, Over-ear headphones, Wireless headphones, etc.
Wireless headphones are costly than wired headphones. But wireless earphones add to comfort by avoiding hindrance and tangling of wires. The on-ear headphones are costly than in-ear headphones. Over-ear headphones provide better external noise filtration and sound quality than in-ear headphones. In-ear headphones or commonly known as earphones/earbuds are the most popular and affordable.
To find more deep information and how to select earphones click on the earphones buying guide provided in the latter part of this article.
Which is the best earphone under 1000?
In the market, earphones are available from a very cheap rate of Rs. 50 to a few thousand. Searching for the best Earphone from this much big range is a very difficult and time-consuming task. This article will surely help to select your best budget earphone.
We have also listed some of the best wireless earphones under 1000 that you may not like to ignore.
Before going in detail the features of each Earphone, let's have look at the top 10 picks.
Top 10 Best Earphones under 1000 with mic in India
The Best Wireless Earphones under 1000 in India
Our Top 3 Picks
JBL C200SI

In-Ear Headphones
(Check On Amazon) is our top pick, considering its design, Aesthetics, Features, one year warranty and the price.
Blaupunkt EM10 Wired Earphone  (Check On Amazon) is our second top pick for It's secure, comfortable fit quality with German standard design and features with one year warranty.
boAt BassHeads 162 with HD (Check On Amazon) Earphones is our third top pick, because of its best features available with one year warranty at a very economical price.
Boult Audio ProBass Curve Wireless (Check On Amazon) is our best wireless budget earphone due to its lightweight, noise isolating angular design.
Top 10 Best Earphones under 1000 with mic in India 2020
| | |
| --- | --- |
| | 1.Blaupunkt EM10 Wired Earphone |

The new Blaupunkt EM10 is featured to deliver the balance between deep bass and clear treble to experience a rich audio quality.
It features a full-function remote to give you total control. Also made to answer and reject calls, play and pause tracks, and forward and rewind tracks easily.
The mic is designed to pick up your voice and keeps it clear and clean. No more shouting or disturbances. 
24 Strand Pure Copper cable to give the best connections with minimum resistance and ensuring optimum sound clarity and power.
Built to German standards so to get the best mix of vocals and rich deep music.
With the Sound Isolation feature, these earphones will ensure automatic switch off with the external world and disturbance.
Design and construction to ensure extra comfort from these earphones. 45 degree angled ear-piece to makes sure the earphones stay firm while running, jogging, or exercising. 
Built with a 3.5mm jack so that to connect with nearly every like device.
Warranty- 1 Year Warranty

PTron Intunes Pro Headphone features strong Wireless Connectivity with Bluetooth v4.2+EDR technology to enable quick transmission and seamless music streaming. It is made so that can easily move around within 10m distance from the paired device.
This pro-Sports Bluetooth Earphone is made of aerospace-grade AL alloy. This lightweight design is made to ensure to fit right into the ears and give wear comfort.
Large 14.2 mm acoustic drivers to deliver 3D HD sound and punchy bass. 
This earphone will connect to any device within 10 meters range and made with Bluetooth V4.2+EDR technology.  It is best for sport and workout sessions.
Earbud has features of sticking to each other which ensures that earphones don't fall off, while not in use.
Designed with in-built and high definition microphones which will allow you to take hands-free calls with ease.
Easy access button for seamless performance.
It is compatible with devices like Audio Player, Laptop, Mobile, Tablet, etc.
Warranty- 1 Year Warranty
3

.

Samsung EHS64 EHS64AVFBECINU 
Enjoy your music and calls with the Best earphone Samsung EHS64 EHS64AVFBECINU Hands-Free from one of the most leading consumer electronics manufacturer Samsung. 
These earphones are popular for their compact design and the fact that you can easily wear while running, biking, hiking or simply walking around town.
Samsung earphone is designed to give you a fully-balanced audio experience.
The earphones are lightweight and of the right size and can be worn for long listening sessions.
Earphones with microphones can help you to call while on the go, record voice-overs, etc. This earphone features clear mic and stability of sound.
3.5 mm audio jack devices.
6 months warranty
4.

JBL Tune 110 in-Ear Headphones with Mic
JBL TUNE110 is lightweight, comfortable, compact, and the best earphones under 1000 with mic in India. The single-button remote on a tangle-free flat cable lets you control music playback, as well as answer calls on the go with a built-in microphone.
JBL sound with powerful bass.
The tangle-free flat cable of this earphone is lightweight and has user-friendly controls for easy functioning.
Lightweight and comfortable ear tips provide a comfortable musical experience for longer listening periods.
With Noise isolation microphone and One-button universal remote yoy can answer and manage your calls effortlessly.
Compatible With Android and iOS devices like Laptop, Audio Player, Tablet, Mobile, etc. 3.5 mm audio jack devices
1-year manufacturer's warranty.
| | |
| --- | --- |
| | 5. 1MORE Piston Fit Earphone |
The 1MORE Piston Fit Earphone with Mic is the ergonomically designed best earphone ensuring the best comfortable secure fit.
Modern design with an aluminum alloy body with 4 unique colors that merge a timeless esthetic with your device.
The patented dual-layer driver consists of titanium and PET. The PET diaphragm capable of providing deep bass whereas the titanium diaphragm ensures enhanced response time, present mids, and sizzling highs.
The lightweight Piston Fit design to fit securely in your ears. The 45° oblique angle is designed to give perfect comfort to your ear. 3 sets of included ear tips are provided to ensure a proper fit for all.
The piston shaped body is lightweight and durable. The cable comes with interior enameled copper wrapped around Kevlar fiber that greatly increases durability. It is coated with TPE for softness and comfort.
Plug: 3.5 mm Gold Plated.
Compatibility with smartphone,mobile,iPhone,iPad,iPod,Laptop,PC
Warranty- one year
| | |
| --- | --- |
| | 6. Sony MDR-AS210AP Open-Ear Active Sports |
Sony's comfortable fit MDR-AS210AP stereo sports earphones, equipped with 13.5 mm high-sensitivity driver units, offers a secure, comfortable fit that lets you get close and personal with your workout. The water-resistant housing of this earphone is designed to prevent sweat and water from leaking in. This makes this headphone ideal for an active lifestyle.
Adjustable loop hangers clip securely to your ears so you can Secure Fit When Running.
With the Sony Smart Key Android app. you can customize remote functions.
It is designed to hear every detail Crisp and Clear With 104 dB/mW sensitivity with a frequency range of 17-22,000 Hz.
Resistant to Rain, Sweat, or Spray splash-proof headphones will keep on playing throughout.
Free up your movement with a 1.2 m Cord that is long enough for the treadmill or the streets.
With Inline Microphone it can be used for hands-free calls.
Plug: L-shaped Gold-plated 4-pole mini-plug
Compatible with Audio Player, Laptop, Mobile, Tablet, etc.
Warranty- one year.
| | |
| --- | --- |
| | 7. JBL C200SI in-Ear Headphones |
The JBL C200SI is the best dynamic, ultra-lightweight in-ear headphone.  It has an in-line microphone with a universal remote control that allows you to talk and manage your calls on Android and iOS devices.
It comes with three sizes of earplugs and an angled fit which makes these earphones more comfortable and can be worn for longer hours.
Compatible with Android devices. Activate Google Assistant with a long press and get it going.
The premium finish with better & Ergonomics. 
It features Noise isolation microphone with One-button universal remote. This enables you to answer and manage your calls easily without any hindrance.
The 3.5mm gold plating on the jack provides improved lossless connectivity and better data transfer.
Compatible with Audio Player, Laptop, Mobile, Tablet
1-year warranty 
| | |
| --- | --- |
| | 8. Mi Earphones with Dynamic bass |
Xiaomi Mi Earphones with Dynamic bass has customized Mi Earphones Basic for India. Mi Earphones features Volume control button and Mic. It also has a 90 degree angled L connector.
The metal sound chamber to produce excellent sound quality.
The wired controls allow for easy access to volume and calls. The cable's Kevlar fiber build to makes it durable.
The 3rd generation balanced damping system is uniquely designed to enhance sound and airflow. 
It features an Aerospace-Grade Metal Diaphragm that is designed to deliver a superior sound with resonating Bass.
Controller with Built-in Microphone Reduces interference and provides clearer sound quality. 
Strong, break-resistant kevlar fibers to protect wiring and extend its lifespan, while braided sleeving prevents tangling. 
Delicate touch due to integrated diamond cut finish
Ergonomically designed for utmost fit and comfort, while looking polished and trendy.
The phone connector is 3.5mm jack angled at 90 degrees. 
6 months warranty
9.

Realme Buds 2 with Mic
Realme buds 2 comes with an ultra big 11.2mm bass driver which can give you a powerful bass for the ultimate bass experience.  The features like elegant design and ultimate sound experience makes it one of the best earphones under 1000 with mic in India.
It is duilt with a powerful 11.2mm bass boost driver assisted with a multi-layer composite diaphragm. This is designed to bring a deep and powerful, accurate bass quality.
This Earphone features an inline remote with three tactile buttons and a mic, so you can control your music and videos, incoming calls easily.
It features integrated magnets to provide the ultimate solution for neatly storing your earphones.
It has a reinforced braided jacket, and two evenly grooved TPU cables to ensure that it won't tangle easily.
Comes with a built-in adjustable cable strap feature to keep your earphones tidy.
The matte, streamlined design looks elegant and attractive.
6 months warranty
10.

boAt BassHeads 162 with HD Sound
boAt BassHeads 162 is the earphones feature 10mm drivers, to experience HD Premium Audio. This is one of the best boat earphones under 1000 with clear sound and the thumping bass. The in-built mic ensures you don't miss important calls.
Its Innovative housing design enables easy adjustment and optimal wearing comfort.
Powerful 10mm drivers are provided to give sonic clarity, bass-driven stereo sound and good attenuation of ambient noise
It has an in-built microphone for handsfree and seamless functions with high sensitivity and a versatile frequency range to provide the ultimate experience.
The passive noise  Isolation feature enables users to enjoy listening to your music in a chaotic and noisy environment.
It also enables users to receive calls on-the-go.
Features solid finish and epic design with different colours (Active Black, Jazzy Blue, and Raging Red) to suit your choice.
It has lightweigh and tangle-free cable that are more user-friendly with easy controls.
Compatibility: All 3.5mm Jack Devices.
Warranty: 1 Year
Best Wireless Earphones under 1000 in India
Sometimes during a workout or traveling the wire of the earphone creates hindrance. If you are really facing this problem, then the wireless earphones can make your experience more comfortable. These earphones use Bluetooth technology to get connected with devices. We have selected some of the best budget wireless earphones that will definitely attract your attention. You can get these wireless earphones by paying little more than 1000 in offer.
| | |
| --- | --- |
| | 1. boAt Rockerz 255 Sports Wireless |
This is a lightweight, ergonomically designed best wireless earphone for sports in India.
It features HD sound and deep boosted bass. It is built with advanced Qualcomm CSR 8635 chipset with the latest Bluetooth 4.1 version.
This is equipped with a 110 mAh battery.
It is provided with the inline controls by which you can control the volume, skip, tracks, attend calls, Alexa, Siri, Google Now or Cortana voice control Smartphone assistant.
The buds are provided with a magnet that helps to hold each other firmly to avoid tangling and stored safely.
Ear guide helps to hold the earbuds firmly in-ear during a workout.
The lightweight design is capable to provide the best comfort level.
This wireless earphone is provided with a 1-year warranty.
The Bluetooth wireless technology of Sony wi-C200 enables you to connect the device wirelessly without tangling of wires and you can enjoy flawless, uninterrupted listening.
Designed to delivers dynamic deep bass audio with clarity. It is built with 9mm driver units to deliver clear and impactful sound. The is very compact and can be stored effortlessly in a bag.
This product assures battery life up to 15 hours of playback which is great to listen for long hours. This Earphones features an upgraded quick charge function. Just 10 minutes of quick charging can give you 60 minutes of playback time. This enables you to use earphones even when you are in a hurry. You can easily charge it easily by just connecting with type c cable. The battery gets fully charged in 3 hours.
Headphones come with a built-in microphone and are compatible with google assistant and Siri. This enables you to get complete hands-free experience while making calls or listening to music.
You can get access to Siri or google assistant quickly by pressing the multi-function button twice.
Provide with the magnetic housing that facilitates to snaps the earbuds in the proper place to keep tangled cords at bay.
It is a very light-weight earphone with a neckband design. This ensures comfortable, easy, and obstacle-free usage even when you are busy with multiple tasks.
| | |
| --- | --- |
| | 3. Boult Audio ProBass Curve Wireless |
Not exactly 1000 but you will have to pay a little more to have this another best wireless earphone.
It is designed to provide playback time of up to 12 to 15 hours on every charge. It will take 1- 1.5 hrs to get fully charged. It has a standby time of 1-2 days.
This earphone is designed with advanced Bluetooth 5.0 technology. It is provided with a high-quality mic for better call performance.
The oval-shaped design with a nozzle angled at 60 deg channelizes the sound directly into the ear canal. This shape also helps in providing the noise isolation effect.
It is built with micro woofers provided to deliver deep bass and noise isolation.
Its earbuds and charging case features inner nano-coating. This makes it waterproof for 1 meter deep for 30 minutes. This makes the earphone idle for sweating during a gym workout. Even you can wash the earbuds and base.
Enjoy the tangle-free easy and comfortable experience with this lightweight wireless earphone.
This earphone offers 1 year of warranty.
| | |
| --- | --- |
| | 4. pTron Bassbuds in-Ear True Wireless |
If you are searching for truly wireless earphone then this is the best Bluetooth wireless earphone under 1000 in India. Though the price of the earphone is high, you can get it under rs 1000 in offer.
This earphone is equipped with truly wireless technology. The latest chipset enables the earphone to deliver lossless audio quality.
It features the latest Bluetooth 5.0 technology that is capable of providing a solid connection, faster pairing, and low power consumption.
This earphone is designed to deliver Hi-Fi studio sound with clean high frequency and distortion-free bass. It is designed to provide free size within 33 feet (10m) without disturbing. They are capable of instantly connecting to your iPhone, iPad, mac, android smartphones, and tablet.
This is built with a microphone to ensure hands-free music and call management.
The buds are ergonomically designed to ensure the perfect canal fit. The weight of just 4 grams of one earbud will feel you comfortable while wearing. Due to this lightweight design, you can wear earbuds for long hours.
The earphone is designed to provide 100 hours of standby time. It is designed to deliver 6 hours of music playback time and 5 hours of talk time, once you charged it for 1.5 hours.
It is provided with a portable 400 mAh charging and storage case. This enables you to charge the earphone on the go for at least 2- 3 times a day.
This product offers 1 year of warranty.
Earphone buying guide
Types of Earphones/Headphones
Earphone (In-ear headphone/earbud)
This is commonly known as earphones or earbuds. Most popular and affordable type of earphone. It is very light in weight. It occupies very less space and therefore very easy to carry. It is very widely available and the price range starts from even rs. 50 to a few thousand.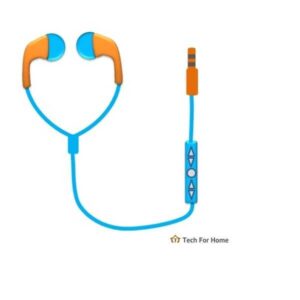 It consists of a very small earbud tip that gets inserted into the ear canal. It has a very light thin wire and connection jack that gets inserted into the device you want to connect.
Most of the earphones now days are provided with an inbuilt inline microphone. The inline remote control is provided to control various functions like sound control, call control, skip, music track control, etc.
Some earbuds are provided with ear wings or guide to hold the buds firmly. This helps in a gym workout or sports activities.
Sound quality depends upon the earbud construction, earbuds, and wire material quality. Price and sound quality varies depending upon the manufacturing brand and various features.
Eartips come in various shapes, construction, and material.
Wireless in-ear headphones
In wired earphones you can face hindrance and tangling of wires. This is best avoided in wireless in-ear headphones. The earphone looks similar to wired earphones, only the wire from the remote control to the jack pin is eliminated.
It has a curved band that fits around the neck. The obstacle of wires in hands is avoided. It provided better handling comfort than wired earphones. The inline mic and remote control are provided. It features Bluetooth technology for connecting the devices. It is provided with a battery. The headphone needs to be charged before use.
Because of the elimination of wire, this earphone is light in weight and requires less space.
Truly wireless earphones
This is an advanced version of earbuds. These are truly wireless earphones as the wire is completely eliminated. It uses advanced Bluetooth technology for establishing a connection between devices. These are very lightweight, tiny to handle, and store. It is provided with a charging case. It features a built-in microphone and various controls. This completely avoids the tangling and hindrance due to wires and hence is very comfortable to use.
Battery life is an important parameter that needs to be considered while selecting wireless earphones.
The wireless earphones are costlier than wired earphones.
Overhead headphone
As the name suggests the headphone band is located on the head and the ear pads are rested on the ear. The headphones are further classified into different types as per their construction. All these headphones look prima facie similar but there is a difference in the construction of ear pads.
On-ear headphones
In this type of headphone, the band is located over the head and the ear pads are rested on the ears. The pad size is nearby the size of the ear. Therefore it just covers the ear surface. These are light in weight than over-ear models.
Because this type of headphone can leave some gap between ear and pad contact and the external noise can enter and distort the sound quality.
Over-ear headphones
It is also having a band that passes over the head. The earpads are bigger than the ear size. It's cup shape structure completely encloses the ear. This type of construction leaves no gap to enter the external noise. Therefore these are better for noise reduction and delivering the best quality sound. This type of headphones are heavy than on-ear headphones and therefore you may not be comfortable for wearing them for long hours.
Noise cancellation headphones
This is an advanced version of headphones. This type of headphone features noise cancellation technology that is capable of eliminating surrounding noise. This delivers the best quality, filtered, real sound experience. Because of their features and technology used there are more costly than about two types.
Close back and open back headphones
These are the features that appear in both on-ear and over-ear headphones.
In closed-back headphones the outer surface of the earpad is close. This blocks the entry of ambient noise into the ear. This helps in eliminating the entry of external noise and experiencing pure sound quality. This is beneficial to those who want to hear very fine details of the music or sound.
In open-back headphone construction the outer surface of the earpad is not closed. It is provided with perforated openings that allows to escape some sound into the ambient. This simulates some kind of a sound atmosphere to work for the sound engineers on sound quality. This type of headphones creates less pressure on the ear compared to other headphones. Therefore this can be used for a longer period.
Wireless headphones
These are the headphones that come without wire. The wires of the headphones create hindrances and tangling problems. To get rid of this the wireless headphone is the best solution. This headphone features Bluetooth technology to establish a connection between headphones and devices. This benefits during a gym workout or where you don't want wire obstacles.
This type of headphones is more expensive compare to wire headphones as this uses technology like Bluetooth and battery for cordless supply. They need to be charged before use. Battery life needs to be looked upon by selecting wireless headphones.
Features in Earphones ( Earbuds)
The article is dedicated to earphones or earbuds, therefore we will discuss the factors to be considered while selecting the best earphones under 1000 with mic in India.
Earbud tips
This is the most important part of the earphone phone that contributes most to comfort and user experience. The earbuds gets fitted into the ear canal. The large size of ear tips can be painful for long usage. On the other side, the very small size tips will not form a correct fit with ear canal. This will create a gap to escape the sound or to enter external noise and distort noise quality. Most of the earphone manufacturers provide different size earbud tips. Ensure that your earphone has multiple earbud tips so that you can be able to choose the best tip that best suits your ear.
Ear tip creates direct contact with the ear therefore its comfort matters the most. The memory foam earbud tips create comfortable and sealed contact with ears. This can be used for long hours.
The rubber tips can be quiet hard to the ear and create discomfort for long usage.
Most of the earphones come with silicon tips. This is quite capable of providing comfort then rubber tips.
Some sports earbuds are provided with ear wings or guide. If you want to use the earbud while doing a workout or during sports activities then this will help to hold the earbud firmly.
Select the tips that can provide the best comfort, sound quality, and can be used for long hours.
Driver
This is an important unit in an earphone that converts electrical signals into sound. It is in a disc shape. The size of the driver depends upon the sound output required and the manufacturing brand.
The size of the driver in earphones ranges from 8 mm to 15 mm. Size is one of the factors that affect the sound quality. But it is not necessary that the bigger the size, better the sound quality. There are many other factors that affect sound output. The bigger driver size can add to delivering cleaner and better bass.
Microphone
Most of the earphones are provided with an inline microphone. Microphones enable you to make calls or answer calls without removing headphones. Ensure that the location of the microphone is near to the mouth. If the microphone is far away then it will not be able to deliver the clear sound.
Remote control
Remote control plays an important role in controlling various functions of an earphone. You can control the sound, take phone calls, manage soundtracks, etc. Ensure that your earphone features the best quality remote control that will add to operating comfort.
Battery life
This needs to be considered if you want to buy wireless earphones. Select the earphone that offers the best battery life. Your wireless earbuds need to be charged before using them. The charging is done through the charging case provided along with the earbud. Again the charging case itself needs to be charged. Therefore it is necessary that the charging case and earbuds hold a charge for a longer duration.
Price
There is a wide range of earbuds available market. You can get earphones in rs 50 and also up to a few thousand. For getting better features and brands you need to pay some handsome money. We don't recommend buying a cheap unbranded earphones. This will not give the required sound quality and comfort. For your normal usage, you can get the best earphones under Rs. 1000 in India. If you can afford a higher price than wide varieties of wired and wireless earphones with higher features are available. Select the best one that best suit to your requirement with optimum comfort.
Conclusion
To search for the best earphone from a very big list is a very difficult and time-consuming job. In this review article, we have filtered the Top 10 best Earphones under 1000 with mic in India. We hope that this article will provide enough information on earphones that will add to your basic understanding before selecting the product that best suits your requirements.