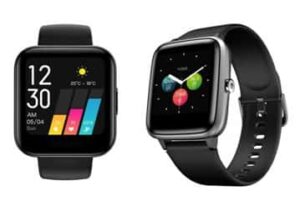 Are you stuck in making a decision between Realme and Noise smartwatch? Then this comparison between Realme Smartwatch Vs Noise Colorfit Pro 2 will help to make your job easy. Going through this article will let you understand the difference between both these smartwatches. We hope that by the end of this article your most of the doughts would have solved with better clarity.
Which is better? Realme Smartwatch Vs Noise Colorfit Pro 2
Realme is one of the popular brands in the manufacturing of Smartphones, Televisions, earphones, headphones, Smartwatches, etc. Because of their products with cutting-edge technology they have gained popularity in the respective product portfolio.
Noise is among the top leaders in the field of Smartwatches, smart bands, audio gadgets, etc. Their smartwatches and smart bands have gained huge popularity.
For the benefit of consumers, we have compared Realme Smartwatch Vs Noise Colorfit Pro 2. We compared both the smartwatches on different specified parameters. We have made this effort to have more clarity on these two products.
Construction and Design
Noise Colorfit Pro 2
The display of this smartwatch is very elegant and attractive. It is having a touch screen display that measures 1.33 inches. This wide display enables ease of operation. The specified weight of the watch is 35 grams and is constructed with a strong polycarbonate case. The watch is lightweight and due to which you can be comfortable wearing it throughout the day.
Realme
The Realme smartwatch also looks very attractive. This is a comparatively large-sized smartwatch. The touchscreen display size is 3.5cm (1.4 inches). The large screen eases operating various functions in the smartwatch. The specified weight is 30gms. This lightweight watch can be worn for the whole day with comfort.
| | |
| --- | --- |
| Noise Colorfit Pro 2 | Realme Smartwatch |
| | |
Health Monitoring Features
Noise Colorfit Pro 2
This smartwatch is equipped with monitoring features that enable you to complete health tracking. The 24×7 heart rate monitoring feature measures your heart rate every 5 minutes. It also has sleep tracking, calorie-burning, sedentary alarm, menstrual tracking, etc. It enables you to keep track of your health for the last two weeks. The historical data of the last 30 days helps you to plan your activities and to stay on track with respect to your health and wellness.
This smartwatch features 9 different sports modes. You can record and protect your fitness activities including running, walking, treadmill, workout, cycling, climbing, spin, hiking, yoga.
Realme
It is built with high precision PPG optical sensor. This supports uninterrupted heart rate monitoring 24X7. You will be alerted if the heart rate is too high or too low throughout the day.
The Realme smartwatch also features different health and activity monitoring systems like monitoring oxygen level, Sleep monitoring, idle alert, etc. It has an activity tracker with 14 different sports modes like walking, running, Outdoor/indoor cycling, aerobics, yoga, elliptical, strength training, football, basketball, table tennis, badminton cricket etc. with a real-time display of data.
Battery life
Noise Colorfit Pro 2
The ColorFit Pro 2 has a specified battery life of up to 10 days. But the battery life also depends upon the usage.
Realme
This smartwatch specifies a battery life of up to 9days.
Notifications
Both the smartwatches have features of social media notifications, messages, and call alerts on your smartwatch. 
Water-Resistant
Both the smartwatches are IP68 waterproof. It makes it easy for you to wear it when it is raining or sweating. This feature helps a lot during workouts and sports activities.
Other Features
Noise Colorfit Pro 2
This smartwatch is compatible with popular operating systems like iOS and Android. 
You can also control the music playback in your smartphone with the remote function.
Realme
You can smartly control your phone camera and music from your watch. Compatible with Android smartphones.
Aesthetics
Noise Colorfit Pro 2
It is available in 3 colors which are Jet Black, Teal Green, Mist Gray. You can even customize your watch with swappable straps. You can also personalize the smartwatch face appearance by multiple faces.
Realme
You can personalize the watch face by selecting from inbuilt exquisite watch faces to look different on every occasion.
Warranty
Both the smartwatches come with one year of warranty. Please go through and confirm their detailed warranty terms and condition with manufacturers.
Price
Though the price of Both the smartwatches is near rs. 5000, you can get these under 3000 on offer. Confirm the latest price before selecting your best choice. Both smartwatches are the best buys in this price range.
Noise Colorfit Pro 2 :  Check Price On Amazon 
Realme Smartwatch :  Check Price On Amazon 
Conclusion
Both the smartwatch are capable of offering a complete health tracking solution in an affordable price range. While comparing Realme Smartwatch Vs Noise Colorfit Pro 2, we did not find any large difference in features of both the smartwatches but every brand has its unique identity.
Both the smartwatches are good but we will like to go with Noise Colorfit Pro 2 considering the features and the affordable price. Hope this comparison will clarify and help in choosing between these two smartwatches.
Note: Please note that the Smartwatch is not a medical device. Therefore this should not be used to diagnose, treat, cure, or prevent any disease. The data and health parameters measured on the smartwatch should be only used for personal reference and not for any medical use and treatment.